Hangar 18 Indoor Climbing Gym
Your Ontario hotel has a state of the art fitness center, but sometimes traveling gives you the urge to try something new with your workouts, too. Hangar 18 offers drop-in rates as well as monthly options so the weekend or extended stay traveler has plenty of options to "rock out." All day passes, day packages, affordable monthly rates and the option to schedule a special group trip to the rock gym are all possible.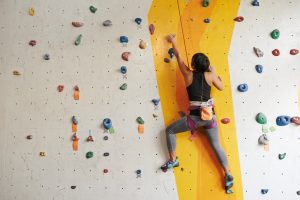 Rock climbing is a fantastic date activity and team building outing. Kid's birthday parties, office bonding events, anniversaries and more are celebrated at Hangar 18. Learn how to belay, climb, boulder and special techniques to get faster, higher and onto more difficult routes.
What to Expect
Gear including shoes, belay equipment, chalk and more are available to rent at Hangar 18 (and is included in all passes and packages). Prefer a package that has a professional belaying you so all you have to do is climb? Or would you rather learn or improve your own belaying skills? It's up to you!
Hangar 18 is open until 10 p.m. Monday – Thursday (and until 9 p.m. Friday or 8 p.m. Saturday/Sunday) at the Upland flagship location. Just a few minutes from Ontario, it's a challenging, fun and exciting way to amp up your workout routine.