Holiday Happenings Near Ontario
Just a short drive to Los Angeles, visitors to Ontario will find some of the best holiday happenings in the country when staying in Southern California. Even though it doesn't feel like the holidays, you can make your own winter wonderland happen at Pershing Square's ice skating rink. It's in the middle of downtown, amidst skyscrapers and famous landmarks. There are DJ nights and special events. Travel a little farther to ICE at Santa Monica, located downtown at 1324 5th St., for an 8,000 square foot rink.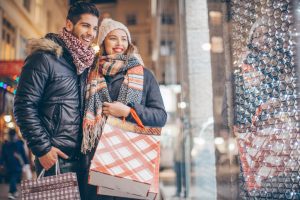 You can fill the entire month of December heading to various famed places to see holiday lights. Top choices include Christmas Tree Lane on Santa Rosa Avenue between Woodbury Avenue and Altadena Drive in Altadena, CA; the Balian House at 1960 Mendocino Lane in Altadena; Rodeo Drive in Beverly Hills; Upper Hastings Ranch just north of Sierra Madre Boulevard and east of Michillinda Avenue in Pasadena; and the Venice Canals on Dell Avenue in Venice.
Sleigh Bells Ring
Shopping is a must when visiting Ontario, and holiday markets pop up all over town. Check out the CAFAM Holiday Marketplace on the Miracle Mile, where handmade gifts from local and international artists are featured. The Artisanal LA Holiday City market is an annual event boasting over 60 vendors at N. 1st Street and Huntington in Arcadia. Also check out the Unique USA LA Holiday Market for the biggest event featuring only made-in-America items and complete with free drinks and photo booths.
Annual traditions like the Enchanted: Forest of Light with inflatables and zany decorations along with interactive nighttime installations in the botanical gardens of Los Angeles are huge hits. Throughout the month, the Miracle on Santa Fe in the Arts District's Westbound is a crazy holiday bar overflowing with decorations and boozy concoctions. No matter how you celebrate, put some sparkle in it—otherwise, it would be an LA holiday.