Italian Restaurants in Ontario
You don't have to travel far from your Ontario airport hotel to indulge in some of the best Italian cuisine in Southern California. Try Vince's Spaghetti for old-fashioned Italian classics like spaghetti (of course!), meatball sandwiches and French dips, Mostaccioli with meat sauce or Mostaccioli with tomato sauce.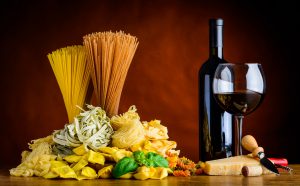 Cannataro's Italian Restaurant is famous for their fried ravioli and lasagna served in an old world, charming and romantic venue. Pizza and calzones, veal parmesan, Italian meatloaf, pork tenderloin and fresh seafood like shrimp scampi are all part of the menu. There's even a low-carb menu for those who want to indulge but keep their California beach body.
Decadence Defined
Rossa's Cucina Enoteca is known for veal chops, antipasta platters and plenty of pasta in this quaint destination decked out with Euro flair. Perfect for private events, you'll want to try their Rigatoni stuffed with veal, angel hair pasta with fresh tomatoes and mozzarella, baby lobster tail flanked with shrimp, scallops, calamari, mussels and clams—and of course their delectable desserts, from tiramisu to spumoni.
Caffe Allegro is upscale, intimate and the perfect pick for date night. Dine on dishes paired with fine wines on the outdoor patio or balcony overlooking the city. Get the tapas menu or indulge with sushi-grade tuna served with steamed rice, Mexican shrimp scampi, breaded chicken breast with provolone or one of their many shareable entrees.
Where will you treat yourself first?