Packing House Wines
It's bottoms up at the popular Packing House Wines in historic Claremont Village. Set your GPS to 540 W 1st Street and get ready to sip on some of the best wines in the region. Packing House is a beloved online retailer that also boasts a quaint tasting room with knowledgeable staff. This favorite venue for special events has a wine to suit every palate, from the novice connoisseur to the most seasoned collector. Come discover a new favorite and take home the taste of Ontario.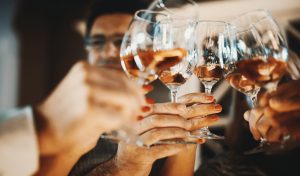 Close to hotels in Ontario, it's easy and budget-friendly to get a taxi or ride-share so you can indulge guilt-free. Featured wine tastings are held monthly, or you can simply drop by during business hours for a unique tasting experience. Sommeliers show guests how to best enjoy and taste the wines, giving you a chance to optimize your visit.
A Bit of Bubbly
Is it a bar, wine shop or restaurant? Packing House is all of the above! Making the Wine Spectator's "Best of" list, this regionally heralded boutique winery features a classic menu that changes with the seasons. Nestled into a historic building within the Inland Empire, a number of employees have completed the Court of Master Sommelier program and are eager to share their knowledge with guests.
Choose your preferred bites, and get them paired with wines by experts. Cheese boards, bread and olives, hickory-smoked almonds, dips and cured meats, bacon-wrapped dates and so much more are available. Try the duck leg confit, organic burger, bananas foster, cake and ice cream and much more!