Restaurants Open on Christmas Day
A few of your favorite chains might be open on Christmas, and while a Taco Bell breakfast burrito might be just what you're craving, you're in Southern California—enjoy the foodie paradise with these favorites committed to being open on the big day. Georgie is open from 12 – 9 and has a champagne cocktail cart and gorgeous buffet. Try the hot chocolate DIY station and the many Hanukah dishes for $108 per adult and $35 per child.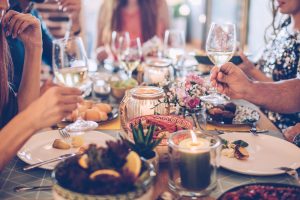 Public Kitchen and Bar in Hollywood is known for an elaborate holiday brunch with classic dishes, bottomless mimosas and some fusion cuisine with a twist. Price is around $65 per person, or add on $20 for the bottomless drink selection. You can expect classic cuts and scratch-made desserts.
Holiday Eats
Le Petit Paris in downtown Los Angeles has a sprawling Parisian buffet until 3:30 p.m. You can count on plenty of pommes frites and dishes topped with foie gras. Arrive at brunch for the best pastry selection, or make your reservation for Christmas Eve and have two full days of decadent brunches. Price is $49 per person.
The Front Yard dishes up plenty of carved goodies including turkey and lamb, along with roasted winter vegetables and smoked salmon. Try the sage bread and save room for the beloved blueberry ricotta cheesecake. The Christmas buffet dinner has a strong following, and at just $45 per adult or $21 per child, it's easy to see why.