Thanksgiving Treats Near Ontario
When you're just 40 miles from Los Angeles, a short day trip to La La Land for Thanksgiving dinner is a must. (As an added bonus, you'll avoid any holiday traffic on Thursday!). A number of restaurants are serving a delicious meal, such as M Street Kitchen in Santa Monica. Open for both breakfast and lunch on the big day (8 a.m. – 4 p.m.), enjoy eggs benedict, brunch cocktails, cinnamon French toast and other delicious options you can be thankful for.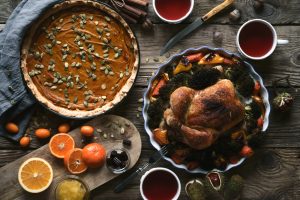 Little Next Door in West Hollywood is known for their French fare, but on Thanksgiving they offer dine-in or carry-out for their signature turkey bread and decadent desserts like bourbon pecan pie and spiced pumpkin cheesecake. Enjoy the chef's special for lunch, perfect for a solo outing or family gathering.
Luscious Lunches
Salt at the Marina del Rey Hotel celebrates the holiday with one of the best views in town. Book your table for their special Thanksgiving menu from 11 a.m. – 2:30 p.m., or 5 p.m. – 10 p.m. A traditional meal includes cuts from turkey and prime rib, stuffing, mashed potatoes and dessert medleys fit for royalty.
The Pikey in Hollywood serves deep fried turkey legs as part of their traditional dinner. Get all the fixings and more for just $40 per person, and you're guaranteed to leave satisfied. Just save room for some of the most outlandish desserts in town—you don't want to miss out on these sweet endings.