The Peaks of Ontario
Hotels in Ontario are close to the convention center, shopping, dining—and just a few short miles away from some of the best trail hiking in Southern California. You'll find Bighorn Peak, Ontario Peak, Cucamonga Peak and Thunder Mountain nestled close together and offering non-stop excitement for outdoor recreation lovers. Grab your mountain bike or hiking boots and start exploring the beauty of Ontario.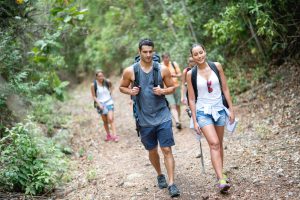 One of the most popular routes to Cucamonga Peak is via Icehouse Canyon, and at nearly 9,000 feet it's a challenging mountain for any outdoor enthusiast. It takes the average hiker around seven hours to take on the 11.6-mile route, and you're rewarded with views of the Inland Empire. A strenuous route, it's common to find snow patches even in the summer. Start at Icehouse Canyon Trailhead near Mt. Baldy Village, and make sure you have your permit displayed.
The Hike of Your Life
Bighorn Peak offers similar elevation gains and also takes around seven hours, though it's a 14 mile challenge. As one of the tallest and most prominent peaks in the Angeles National Forest, you'll hike over alpine brooks and enjoy idyllic landscapes featuring pines and cedars. Be sure to sign your name at the Mt. Baldy Ranger Station to commemorate your summit!
Ontario Peak is the sister summit to Bighorn, and the trails to both peaks share some routes between the mountains. Rated as "hard" at 14.7 miles, you need about eight hours to complete this hike. You'll enjoy solitude and perhaps some bighorn sheep sightings, but beware of the second half which is sparsely marked with perhaps no other hikers in sight.
Which will you take on first?