Top Thai in Ontario
Dine-in, delivery or take-out? There are three premium Thai choices close to your Ontario airport hotel. Why not try them all out and see which one you think is best? From authentic dishes to scratch-made treats, you can customize your spice level, indulge in fresh exotic desserts and discover just one more type of cuisine southern California excels at.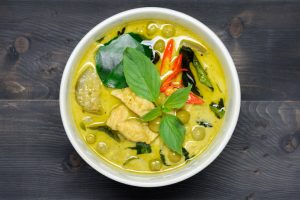 Ontar Thai Restaurant is a casual establishment serving up homemade Thai dishes. Here, you'll be treated to delicious appetizers like fried tofu, chicken satays, squid salad and larb. Noodle dishes with fried rice and cashews, and a la carte options like grilled beef, BBQ chicken, beef jerky Thai-style and the Thai omelet Kaijeaw with ground pork is sheer perfection.
The Spice of Life
Try Home Thai for curry, noodles and more in a dim, intimate environment. Popular choices include pad thai, rad-naw with wide noodles and broccoli in a brown sauce with your choice of protein, panang curry with bell peppers and coconut milk, and sweet and sour combos.
Lucky Elephant Thai Cuisine specializes in noodle dishes and curries with genuine flavors. You'll feel whisked away to Thailand as you dine on their innovative twists like shrimp donuts (a surprising addiction), fried ice cream with Thai flavors and more. Party platters are perfect for catering parties and events.
Where will you Thai one on?