Visit Madonna of the Trail
One of 12 "Madonna of the Trail" located in the U.S., each commemorates the pioneer woman spirit. They were commissioned by the National Society of Daughters of the American Revolution and placed at every state where the National Old Trails Road travels from Maryland to Upland, California. The Madonna in nearby Upland is the last to be built and minutes from Ontario.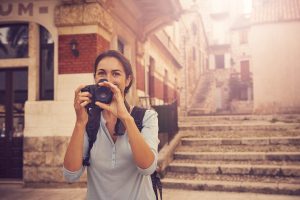 Sculptor August Leimbach crafted each of the statues, and they stand as an homage to the faith and bravery of the women who took on the wilderness and built permanent homes. Beginning in 1928, the statues became instant landmarks in the 12 states and a great source of pride. After nearly 90 years, they're all in fantastic condition and a must-see for Ontario visitors.
A Quick Day Trip
The National Memorial Highway (Old Trails Road) is a bi-coastal journey that takes travelers along a similar route that pioneers tackled. The committee chair in charge of commissioning the statues, and future president, Harry S. Truman was behind the statue project. "The women were just as brave or braver than their men because, in many cases, they went with sad hearts and trembling bodies," Truman said. "They went, however, and endured every hardship that befalls a pioneer."
The Upland monument stands as a testament to the strength of women and is a popular attraction year-round. Grab your camera, pack a picnic for dining al fresco in a local park such as Upland Memorial Park, and make a mini day trip out of it.