What's the Mule Car?
California has long been at the forefront of transportation in the West, and just a short drive from hotels in Ontario is the unique "gravity mule car." It made its first trip along the famed Euclid Avenue in 1887. Charles Frankish and Godfrey Stamm founded the Ontario and San Antonio Heights Railroad Company, and John Tays, an engineer from Upland, designed the innovative car.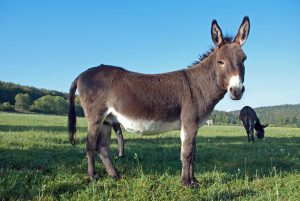 It featured a pull-out trailer, which allowed the mules an easy exit out of the car after every trip. After spending hours pulling loads of passengers from 24th Street to Holt, the beasts of burden deserved a little pampering. The mule car was in operation for eight years, until 1895, when the mules retired and the passengers upgraded to the electric streetcar. The mule car did have a brief revival a few years later during a power outage due to a flood.
Putting the Mule in the Cart
The local Historical Society has a handful of photographs available for public viewing. There's still a monument in downtown paying homage to the mules who first powered the rapid-transit system. You'll find it on Euclid Avenue, and it's a popular photo opportunity.
You'll also hear a variety of stories about the mules around town, such as the proven tale about two mules bought by a rancher when they retired from the transit business. They did a great job pulling his plow uphill, but wouldn't go in the other direction—they were expecting a ride from the farmer. It was finally "proven" in an old obituary (one that was written for the mule).