You're in Wine Country: Three Tastings in Ontario
Located just minutes from Ontario convention center hotels are three fantastic wineries with tasting rooms. Visit San Antonio Winery: Ontario Wine and Event Center at 2802 S. Milliken Avenue for a family-owned winery that's been operating since 1917. Whether you're in the mood for a tasting flight or would prefer a sit-down meal at their on-site restaurant, it's the biggest and most established winery in Ontario.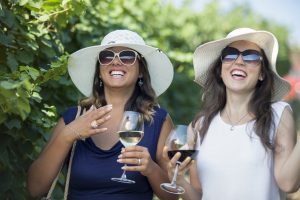 Make reservations for large group tastings, or simply show up during tasting hours (varies by the day) and get introduced to a selection of wines from the estate vineyards peppered throughout Napa Valley. The Daily Artisan series includes four very limited reserve tastings for $15 (logo glass included), or four specialty wines for $5.
Wining and Dining
Joseph Filipi Winery and Vineyards is another popular family-owned vineyard in the area. Located in nearby Rancho Cucamonga at 12467 Base Line Rd., this winery is known for its impressive selection including rose, sparkling wines and even sacramental wines. The vineyard started in 1994 when the family revitalized old vineyards and put their own spin on the process. You don't want to miss out on these delicious flights.
Galleano Winery is at 4231 Wineville Road in Mira Loma, and boasts a rich history. The vineyard has been in operation since 1933, and tastings start at just $5 per person for five tastes. Group reservations are available. The award-winning winery has roots going back to 1887, making it one of the oldest and most prestigious vineyards in the region.